Product Description
PU Jaw CZPT Coupling Spider Insert GR/GE/HRC Coupling Element
Specification:
Name
ROTEX Coupling Spider insert
Material
Silicone, EPDM, NR, NBR, FKM, SBR, HNBR, IIR, CR FFKM etc silicon,fluorine,NBR,FPM,EPDM,SILCONE ACM,HNBR
Size
According to the drawing or sample
Color
According to your requirement (Panton color card)
Application
Parts are used on vehicles, printing machines, food processing machines, textile machines, electronic machines, etc.
Inspection instruments
Excellent chemical and physical property, excellent oil- resistance, high temperature stability, etc.
Package
Inner plastic bag/outside carton/wooden pallets/ or any other special package as per customer's 
requirements
Final inspection
We'll make a final QC 100% inspection to make sure a good quality before delivery
Features:
Long performing life
Heat resistance
Crack proof
Advantages:
Good physical properties.
Easy installation.
Technical Data
Operating conditions
Temperature: 40~+100°C
Torque: 22.42500NM
Material: CPU/TPU
Hardness: 9095 Shore A
Color: custom
Appication:
Other related coupling splider
FAQ
Q: Are you manufacturer or trading company?
A: We are manufacturer, engineer had rich experience over 20 years. 
Q: How to get the quickest quotation?
A: Sending drawing, material, quantity and other rrequirements by email. 
Q: How to get quotation without drawing?
A: Possible send sample, pictures or detail descriptions of products to us, we will return you drawing for confirm.
Q: I have an idea for a new product, but not sure if it can be manufactured. Can you help?A. Yes! We are always happy to work with potential customers to evaluate the technical feasibility of your idea or design and we can advise on materials, tooling and likely set-up costs. 
Q: My custom products have already been developed on CAD. Can you use the drawings?
A. Yes! DWG, DXF, IGES, Solidworks and Rhino files can all be used to generate quotes, models and mould tools – this can save time and money in producing your parts.
Q: Can I test my idea/product before committing to mould tool manufacture?
A. Yes, we can use CAD drawings to make models for design and functional evaluations.
Q: What type of plastic/rubber material is best for my design/product?
A. Materials selection depends on the application of your design and the environment in which it will function. We will be happy to discuss the alternatives and suggest the best material.
Q: How to get sample?
A: Free sample is available for your quality evaluation, but you should pay the freight. Regarding customize products, sample and mould order will go first before mass production. 
 
| | |
| --- | --- |
| Usage: | Agricultural, Industrial, Vehicle, Electronic |
| Material: | Rubber |
| Color: | Custom |
| Hardness: | Sha93 |
| OEM/ODM: | Welcomed |
| Transport Package: | Inner Polybag with Carton Box |
Samples:

US$ 4/Piece

1 Piece(Min.Order)

|
Request Sample
Customization:

Available

|

Customized Request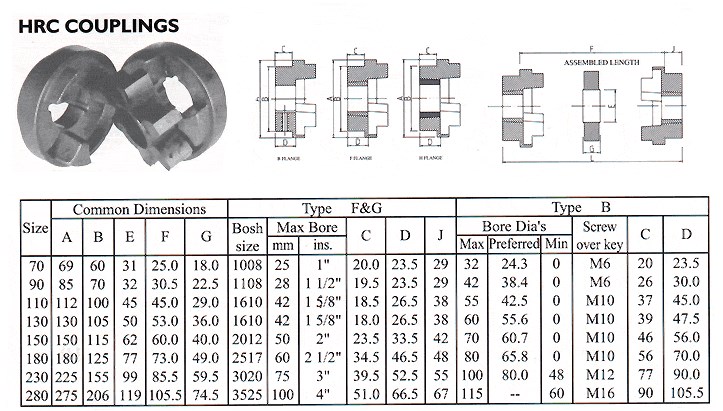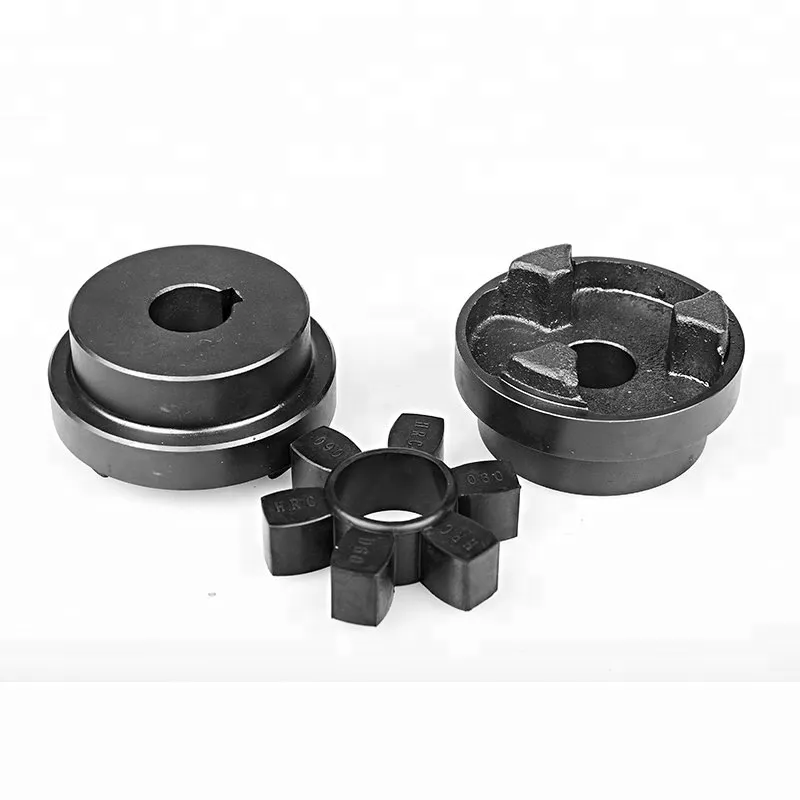 What are the Maintenance Requirements for HRC Couplings?
HRC (Highly Resilient Coupling) couplings are known for their relatively low maintenance requirements, making them popular in various industrial applications. However, like any mechanical component, they still require some attention to ensure optimal performance and longevity. Here are the typical maintenance requirements for HRC couplings:
Regular Inspection: Perform visual inspections of the coupling regularly to check for signs of wear, damage, or misalignment. Look for any unusual vibrations, noise, or overheating during operation.
Lubrication: Some HRC couplings have elastomeric elements that require periodic lubrication to maintain their flexibility and resilience. Check the manufacturer's recommendations for the proper lubrication schedule and type of lubricant to use.
Torque Monitoring: Ensure that the coupling is properly torqued and recheck the torque periodically, especially after installation or maintenance activities.
Alignment Checks: Misalignment can lead to premature wear and reduced coupling life. Regularly check the alignment of the connected shafts and correct any misalignment if necessary.
Environmental Considerations: HRC couplings can be affected by environmental factors such as temperature, humidity, and exposure to chemicals. Ensure that the coupling is suitable for the specific environmental conditions of the application.
Replace Worn Parts: Over time, the elastomeric elements of the HRC coupling may wear out. When signs of wear, cracking, or damage are observed, replace the coupling elements promptly to prevent further issues.
Professional Inspection: Periodic inspections by maintenance professionals or coupling experts can help identify any potential problems and address them proactively.
It's essential to follow the manufacturer's guidelines and recommendations for maintenance and inspection intervals specific to the HRC coupling model being used. Proper maintenance can extend the life of the coupling, reduce downtime, and ensure the reliable operation of the machinery in which it is installed.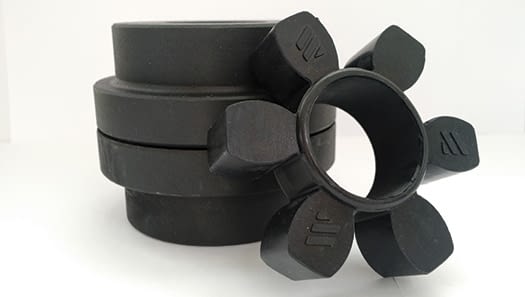 Factors to Consider When Choosing an HRC Coupling for a Specific System
When selecting an HRC coupling for a specific system, several crucial factors should be taken into consideration to ensure optimal performance and reliability:
1. Torque and Power Requirements: Determine the torque and power requirements of the application. This will help in selecting an HRC coupling with the appropriate torque rating and power capacity to handle the load.
2. Shaft Sizes: Check the shaft sizes of the connected equipment. The HRC coupling's bore size should match the shaft sizes to ensure a proper fit and secure connection.
3. Misalignment Tolerance: Evaluate the expected misalignment in the system. HRC couplings are known for their ability to handle angular, parallel, and axial misalignment to a certain degree. Choose a coupling with the appropriate misalignment tolerance for your application.
4. Operating Speed: Consider the operating speed of the machinery. High-speed applications may require specially designed HRC couplings with balanced construction to prevent vibrations and maintain smooth operation.
5. Operating Temperature: Determine the range of operating temperatures in the system. Ensure that the selected HRC coupling can withstand the temperature extremes of the application without compromising its performance.
6. Environmental Conditions: Consider the environmental conditions in which the HRC coupling will operate. Factors such as moisture, dust, and corrosive elements should be taken into account when choosing the appropriate material and coating for the coupling.
7. Space Limitations: Evaluate the available space for the coupling installation. HRC couplings come in various sizes and designs, so choose one that fits within the spatial constraints of the system.
8. Maintenance Requirements: Determine the desired level of maintenance for the coupling. Some HRC couplings are maintenance-free, while others may require periodic inspection and lubrication.
9. Coupling Type: Consider the specific type of HRC coupling that best suits the application. HRC couplings are available in different designs, such as flange, taper bush, and pilot bore, each with its advantages for specific applications.
10. Budgetary Constraints: Finally, consider the budget for the coupling. While cost is an important factor, it should be balanced with the coupling's performance, durability, and suitability for the application.
By carefully evaluating these factors, you can choose the most appropriate HRC coupling for your specific system, ensuring smooth power transmission, longevity, and reliability of your equipment.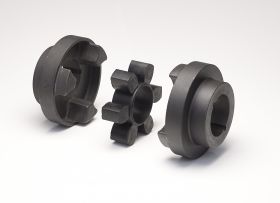 Advantages of Using HRC Couplings in Mechanical Systems
1. Flexibility: HRC couplings offer flexibility in accommodating misalignment between shafts, both angular and parallel. This flexibility helps to reduce stress on the connected equipment and increases the overall reliability of the system.
2. Vibration Damping: The elastomeric spider in HRC couplings acts as a cushion, absorbing vibrations and shock loads, which results in smoother and quieter operation of the machinery.
3. Simple Design: HRC couplings have a straightforward design, consisting of just two hubs and an elastomeric spider. This simplicity makes them easy to install, assemble, and maintain.
4. Cost-Effective: Compared to some other types of couplings, HRC couplings are cost-effective, providing reliable performance at a relatively lower cost.
5. High Torque Transmission: HRC couplings can handle high torque transmission, making them suitable for various heavy-duty applications.
6. Misalignment Compensation: They can compensate for small amounts of misalignment between shafts, which can occur due to factors like thermal expansion or shaft deflection.
7. Corrosion Resistance: The elastomeric spider in HRC couplings provides some level of corrosion resistance, making them suitable for applications in harsh environments.
8. Wide Range of Sizes and Torque Ratings: HRC couplings are available in various sizes and torque ratings, making it easy to find a suitable coupling for different power transmission requirements.
9. Electrically Insulating: Some HRC couplings are electrically insulating, which can be advantageous in certain applications to prevent electrical currents from passing between connected shafts.
10. Reduced Downtime: Due to their ability to absorb shock loads and vibrations, HRC couplings can help reduce wear and tear on machinery, leading to less downtime and lower maintenance costs.
Overall, HRC couplings are a reliable and widely used choice for connecting shafts in mechanical systems, providing flexibility, vibration dampening, and cost-effectiveness in a wide range of applications.



editor by CX 2023-09-06