Product Description
Product Description
HRC Flexible rubber coupling types of spider coupling B/F/H HRC Couplings
Mainly used in the mining, metallurgical, cement, chemicals, construction, building materials, electric power, telecommunications, textiles, and transportation departments.
Such as: 
Conveyor: Belt conveyor.AFC conveyor.Chain conveyor.Screw conveyor.
Pump: Water pump, oil pump, slush pump,etc
Fan: Draft fan,,fanner, boiler fan,etc
Excavator: Bucket excavator. Bucket wheel excavators.Bucket wheel stacker reclaimer.
Crane: Tower crane.Gantry crane.Bridge crane.
Others: Various elevators.Coal plough.Ball mill.Crusher.Recreation machine.Blender
equipment.Centrifuger.Washer.Leather-making machine.machine for recreation park
mixer wire drawing machine.Extruder,dregs crusher of boiler. Plastic feeder.Rubber
smelling machine.etc.
Product Parameters
Packaging & Shipping
Packaging:
Chain+Plastic Bag+ Carton+Wooden case ( If you have other requirements, we can customized according to customer requirements packaging.)
Shipping :
1.Most of the standard ones are in stock which we can send in 3-10 days after inspection and package.
2. Customized products delivery time should be determined according to the number.
Company Profile
About Mighty Machinery
ZheJiang Mighty Machinery Co., Ltd., specializes in manufacturing Mechanical Power Transmission Products. After over 13 years hard work, MIGHTY have already get the certificate of ISO9001:2000 and become a holding company for 3 manufacturing factories. 
MIGHTY advantage
1, Abundant experience  in the mechanical processing industries.
2,Large quality of various material purchase and stock in warhouse which ensure the low cost for the material and  production in time.
3,Now have 5 technical staff, we have strong capacity for design and process design, and more than 70 worker now work in our FTY and  double shift eveyday.
4,Strick quality control are apply in the whole prodution. we have incoming inspection,process inspection and final production inspection which can ensure the perfect of the goods quality.
 
5,Long time cooperate with the Global Buyer, make us easy to understand the csutomer and handle the export.
FAQ
1.Are you a factory?
Yes we are a factory instead of trading company, we sincerely welcome customers to visit us locally.
2.Payment terms?
T/T and L/C are both ok for us.we will start production when we receive 30% deposit and make my delivery when receive full payment.
3.Your delivery time?
we can make delivery in 15 days for Less- Container orders,and 25days for Container orders.
4.This is our first order, how can l trust your company?
We cooperate with Alibaba which is a trustable company, so you can buy our products safely. All of our products are checked by the third party. Before we send the item we will check it carefully by ourselves .
| | |
| --- | --- |
| Standard Or Nonstandard: | Standard |
| Bore Diameter: | 10-100mm |
| Speed: | 4000r/M |
| Structure: | Flexible |
| Material: | Cast Iron |
| Type: | Jaw / Spider |
Samples:

US$ 26.8/Piece

1 Piece(Min.Order)

|
Request Sample
Customization:

Available

|

Customized Request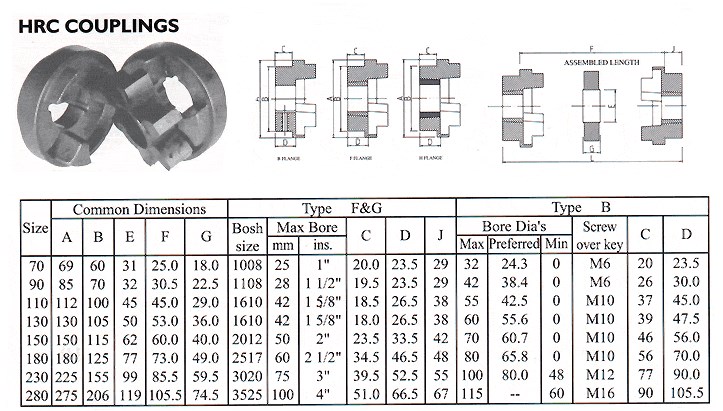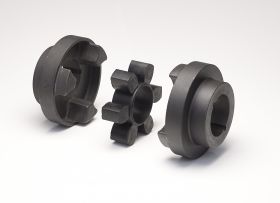 How do HRC Couplings Compare to Other Types of Couplings in Terms of Performance?
HRC (Highly Resilient Coupling) couplings offer specific advantages and disadvantages compared to other types of couplings, making them suitable for certain applications while not ideal for others. Here is a comparison of HRC couplings with some other common coupling types:
HRC Couplings vs. Flexible Couplings: HRC couplings and flexible couplings both provide some degree of misalignment compensation and damping of vibrations. However, flexible couplings typically offer higher torsional flexibility and better misalignment accommodation than HRC couplings. HRC couplings may have limitations in terms of angular and parallel misalignment compared to certain types of flexible couplings.
HRC Couplings vs. Gear Couplings: Gear couplings are more robust and can handle higher torque capacities than HRC couplings. They are suitable for heavy-duty applications that demand higher torque transmission and greater misalignment accommodation. However, gear couplings may be more expensive and less forgiving in case of misalignment.
HRC Couplings vs. Disc Couplings: Disc couplings offer excellent misalignment compensation and torsional stiffness. They can handle high-speed applications and provide precise torque transmission. However, disc couplings are generally more expensive than HRC couplings and may require more frequent maintenance.
HRC Couplings vs. Jaw Couplings: Jaw couplings are simple and cost-effective but offer limited misalignment accommodation compared to HRC couplings. They are suitable for light to moderate loads and lower torque applications.
Ultimately, the choice of coupling type depends on the specific requirements of the application. HRC couplings are well-suited for applications where moderate misalignment compensation is needed, and cost-effectiveness is a consideration. They are commonly used in pumps, compressors, conveyor systems, and other industrial machinery.
When selecting a coupling, factors such as torque capacity, speed, misalignment requirements, environmental conditions, and maintenance considerations should be taken into account. It is essential to consult with coupling manufacturers or engineering experts to ensure the appropriate coupling is chosen for optimal performance and reliability in the given application.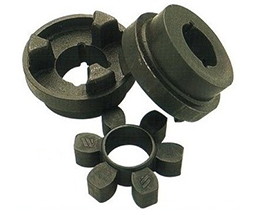 Impact of HRC Couplings on the Overall Reliability of Connected Equipment
HRC (Hytrel Rubber Compression) couplings play a crucial role in enhancing the overall reliability of connected equipment in mechanical power transmission systems. Here are some key ways in which HRC couplings contribute to improved reliability:
1. Shock Absorption: HRC couplings are designed with a flexible elastomeric element (made of Hytrel or similar material) that acts as a shock absorber. It helps dampen and absorb shocks and vibrations generated during the operation of rotating equipment. By reducing the impact of sudden loads and shocks, the coupling protects the connected components from potential damage or premature wear.
2. Misalignment Compensation: One of the primary functions of an HRC coupling is to accommodate misalignment between shafts. It can handle angular, parallel, and axial misalignment, which commonly occur in rotating machinery due to various factors like thermal expansion, manufacturing tolerances, and settling of foundations. By allowing for misalignment, the coupling prevents undue stress on the connected equipment and minimizes the risk of misalignment-related failures.
3. Vibration Damping: Vibrations in rotating equipment can lead to fatigue and wear in connected components. HRC couplings help dampen these vibrations, ensuring smoother operation and reducing the likelihood of resonance or vibration-related failures.
4. Maintenance-Free Options: Some HRC couplings are designed to be maintenance-free, eliminating the need for regular greasing or lubrication. This feature reduces the maintenance requirements of the coupling and, in turn, enhances the reliability of the entire system by minimizing downtime for maintenance activities.
5. High Torque Transmission: HRC couplings are capable of transmitting high torque loads between shafts. By efficiently transmitting power, the coupling ensures that the connected equipment can perform its intended functions reliably and without power-related disruptions.
6. Torsional Stiffness: HRC couplings provide a degree of torsional stiffness, which helps control angular deflection between shafts during operation. This stiffness contributes to the overall stability of the system and protects against excessive torsional vibrations that could lead to mechanical issues.
7. Durability and Longevity: The robust construction and high-quality materials used in HRC couplings contribute to their durability and longevity. They are engineered to withstand harsh operating conditions and resist wear, ensuring a longer service life for the coupling and the connected equipment.
8. Cost-Effectiveness: HRC couplings offer a cost-effective solution for power transmission applications. Their ability to protect connected equipment from shocks, vibrations, and misalignment helps prevent costly downtime and maintenance, making them a reliable and economical choice for various industries.
In summary, HRC couplings enhance the overall reliability of connected equipment by mitigating the adverse effects of shocks, vibrations, and misalignment. With their robust design and ability to accommodate various operating conditions, HRC couplings contribute to the smooth and efficient operation of mechanical systems, reducing the risk of unplanned downtime and extending the lifespan of the connected equipment.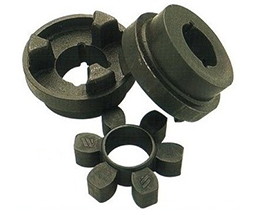 Explanation of HRC Coupling and Its Functionality
An HRC coupling, also known as a "Highly Resilient Coupling" or "Jaw Coupling," is a type of flexible shaft coupling used to connect two shafts in mechanical power transmission systems. It is designed to transmit torque while accommodating minor shaft misalignments and dampening vibrations.
How HRC Coupling Works:
The HRC coupling consists of three main components:
Two Hubs: Each hub has a set of curved jaws with teeth that mesh together when the coupling is assembled. The hubs are typically made of steel or cast iron and are connected to the respective shafts of the driving and driven equipment.

Elastomeric Spider: The elastomeric spider is the flexible element of the coupling and is placed between the two hubs. It is commonly made of a synthetic rubber material such as polyurethane. The spider's unique design allows it to deform under torque, transmitting power while accommodating angular and parallel misalignments between the shafts.
When the HRC coupling is in operation, the driving shaft rotates, and the torque is transmitted through the hubs to the elastomeric spider. As the spider deforms, the jaws of the hubs move relative to each other, accommodating any misalignment between the shafts. This flexibility helps to reduce the transmission of vibrations and shock loads from one shaft to the other, thus protecting the connected equipment.
HRC couplings are widely used in various applications, including pumps, compressors, conveyors, and other machinery, where misalignment and shock absorption are important considerations. Their simple and effective design makes them easy to install and maintain, and they are available in various sizes and torque ratings to suit different power transmission requirements.



editor by CX 2023-08-09