Product Description
HRC Coupling, Gr Coupling, L Type Coupling, Sbt Coupling, Hb Coupling, FCL Coupling, Nl Coupling
Description: the polyurethane elastomeric is a new material of polymer synthetic between rubber and plastic. It has both high strength of plastic and high elasticity of rubber. Its characteristics are: 1, a wide range of hardness. It still has rubber elongation and resilience at high hardness. The polyurethane elastomeric has a hardness range of Shore A10-D80. 2. high strength. At rubber hardness, the tensile strength, tear strength and load carrying capacity are much higher than general rubber material. At high hardness, its impact strength and flexural strength are much higher than plastic material. 3, wear-resistant. Its wear resistance is very outstanding, generally in the range of 0.01-0.10cm3/1.61km, about 3-5 times than rubber material. 4, oil resistant. The polyurethane elastomeric is a highly CZPT polymer compound which has low affinity with non-polar mineral oil and is hardly eroded in fuel oil and mechanical oil. 5, good resistance to oxygen and ozone. 6, excellent vibration absorption performance, can do damping and buffering. In the mold manufacturing industry, it replaces rubber and springs.7, has good low temperature performance. 8, radiation resistance. Polyurethane is highly resistant to high energy radiation and has satisfactory performance at 10-10 deg radiation dose. 9, with good machining performance.
The polyurethane coupling, rubber coupling are made by injection with high quality TPU material or mould CSM/SBR. It is designing and special for all kinds of metal shaft coupling with very good performance of high tensile strength, high wear resistant, high elastic resilience, water resistant, oil resistant and excellent fatigue resilience, high impact resistant etc. We have full sets injection moulds and supply full range of GR, GS, MT, ML, MH, Hb, HRC, L, T, NM and Gear J series couplings etc. with high quality and excellent experience. Apply to all kinds of industrial metal shaft coupling.
Specifications:
material: TPU, CSM/SBR, NBR, nylon etc.
color: yellow, red, purple, green, black, beige etc.
surface: smooth
tensile strength: 8-55Mpa
hardness: 70-98Shore A
elongation: 400%-650%
density: 1.25g/cm3
elasticity impact: >25%
tear strength: 35-155KN/m
akron abrasion loss:<0.05cm3/1.61km
compression set (22h*70°C):<10%
working temperature: 120°C
standard size for polyurethane coupling: 
GR14, GR19, GR24, GR28, GR38, GR42, GR48, GR55, GR65, GR75, GR90, GR100, GR110, GR125, GR140, GR160, GR180
GS5, GS7, GS9, GS12, GS14, GS19, GS24, GS28, GS38, GS42, GS48, GS550, GS65, GS75
MT1, MT2, MT3, MT4, MT5, MT6, MT7, MT8, MT9, MT10, MT11, MT12, MT13
ML1, ML2, ML3, ML4, ML5, ML6, ML7, ML8, ML9, ML10, ML11, ML12, ML13
MH45, MH55, MH65, MH80, MH90, MH115, MH130, MH145, MH175, MH200
HRC70, HRC90, HRC110, HRC130, HRC150, HRC180, HRC230, HRC280
L35, L50, L70, L75, L90/95, L99/100, L110, L150, L190, L225, L276
FALK-R 10R, 20R, 30R, 40R, 50R, 60R, 70R, 80R
SBT T40, T45, T50, T55, T60, T65, T70, T75, T80, T85, T90, T95, T100, T105, T108, T110, T115, T120, T125, T130, T135, T140, T145, T150, T154, T170, T185, T190, T210
Joong Ang CR0050, 0070, 571, 571, 2035, 2035A, 3545, 4560, 6070, 7080
MS571, MS571, MS1119, MS1424, MS1928, MS1938, MS2845, MS3860, MS4275, MS6510
D14, D14L, D20, D25, D30, D30L, D35, D40, D45, D49, D55, D65
5H, 6H, 7H, 8H, 9H, 10H, 11H
standard size for rubber coupling:
Hb80, Hb95, Hb110, Hb125, Hb140, Hb160, Hb180, Hb200, Hb240, Hb280, Hb315
HRC70, HRC90, HRC110, HRC130, HRC150, HRC180, HRC230, HRC280
L35, L50, L70, L75, L90/95, L99/100, L110, L150, L190, L225
NM50, NM67, NM82, NM97, NM112, NM128, NM148, NM168, NM194, NM214, NM240, NM265
NOR-MEX168-10, NOR-MEX194-10, NOR-MEX214-10, NOR-MEX240-10, NOR-MEX265-10
FCL1#, FCL2#, FCL3#, FCL4#, FCL5#, FCL6#, FCL7#, FCL8#
FCL90, FCL100, FCL112, FCL125, FCL140, FCL160, FCL180, FCL200, FCL224, FCL250, FCL280, FCL315, FCL335, FCL400, FCL450, FCL560, FCL630
Gear 3J, 4J, 5J, 6J, 7J, 8J, 9J, 10J, 11J, 12J, 13J, 14J
Hytre 4H, 5H, 6H, 7H, 8H, 9H, 11H
Tyre F40, F50, F60, F70, F80, F90, F100, F110, F120, F140, F160 
SBT T75, T80, T85, T90, T95, T100, T105, T108, T110, T115, T120, T125, T130, T135, T140, T145, T150, T154, T170, T210
FCLpin #1, #2, #3, #4, #5, #6, #8
GR42, GR48, GR55, GR65, GR75
DL1, DL2, DL3, DL4, DL5, DL6, DL7, DL8, DL9, DL10, DL11
standard size for nylon coupling:
NL1, NL2, NL3, NL4, NL5, NL6, NL7, NL8, NL9, NL10
M28, M32, M38, M42, M48, M58, M65
packing in bags, cartons, pallets or crates
OEM & customized size are agreed
special supply all kinds of steel coupling for FCL, NM, MH, HRC, Love Joy, Joongang, Centafelx, XL-GR, Tyre
***when you enquiry, pls confirm type, size number and quantity***
 
| | |
| --- | --- |
| Standard: | DIN, ANSI, GB |
| Material: | Rubber or Polyurethane |
| Connection: | HRC Type |
| Surface Treatment: | Smooth |
| Head Type: | HRC Type |
| Color: | Black |
Samples:

US$ 0/Piece

1 Piece(Min.Order)

|
Request Sample
Customization:

Available

|

Customized Request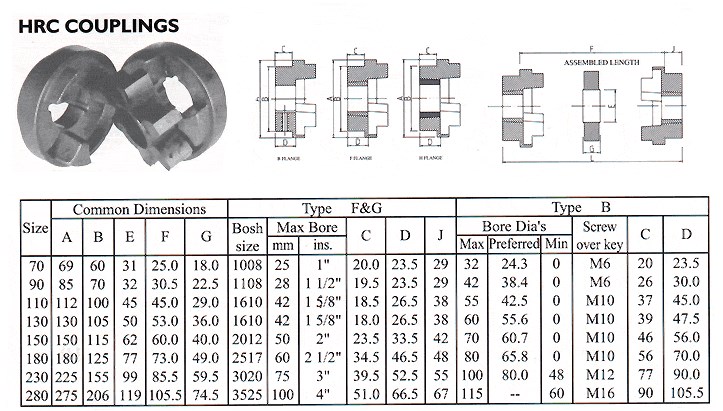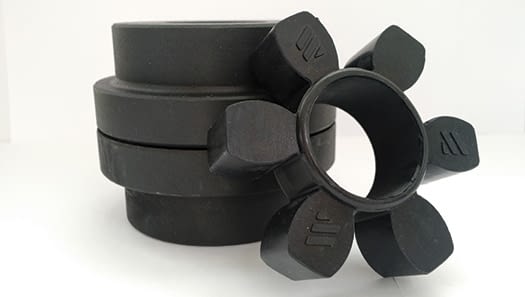 Are There Any Safety Considerations When Using HRC Couplings in Rotating Machinery?
When using HRC (Highly Resilient Coupling) couplings in rotating machinery, several safety considerations should be taken into account to ensure the proper and safe functioning of the coupling and the connected equipment:
Proper Installation: It is crucial to follow the manufacturer's guidelines and recommendations for the correct installation of the HRC coupling. Ensure that the coupling is mounted securely on the shafts and that all fasteners are tightened to the specified torque values.
Alignment: Adequate shaft alignment is essential for the smooth operation of the HRC coupling. Misalignment can lead to increased stress on the coupling and its elastomeric element, reducing its service life and possibly causing premature failure.
Torque Capacity: Before selecting an HRC coupling, verify that it has the appropriate torque capacity for the specific application. Using an undersized coupling can result in overloading, leading to coupling failure and potential damage to connected machinery.
Operating Conditions: Consider the environmental conditions and operating parameters of the machinery when choosing an HRC coupling. Factors such as temperature, humidity, and exposure to chemicals can affect the coupling's performance and longevity.
Regular Inspection: Implement a regular inspection and maintenance schedule for the HRC coupling and the entire power transmission system. Check for signs of wear, corrosion, or any other issues that may require attention. Replace worn or damaged components promptly.
Emergency Stop: Ensure that the rotating machinery is equipped with a proper emergency stop mechanism to quickly shut down operations in case of unexpected events or coupling failure.
Overload Protection: Consider adding overload protection devices to the system to prevent excessive torque or shock loads from reaching the coupling and the connected equipment.
By adhering to these safety considerations and best practices, the risk of accidents, equipment damage, and downtime can be minimized, ensuring a safe and reliable operation of rotating machinery with HRC couplings.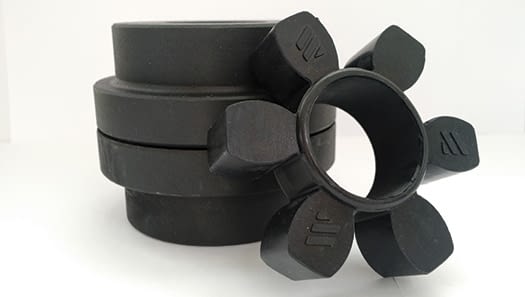 Factors to Consider When Choosing an HRC Coupling for a Specific System
When selecting an HRC coupling for a specific system, several crucial factors should be taken into consideration to ensure optimal performance and reliability:
1. Torque and Power Requirements: Determine the torque and power requirements of the application. This will help in selecting an HRC coupling with the appropriate torque rating and power capacity to handle the load.
2. Shaft Sizes: Check the shaft sizes of the connected equipment. The HRC coupling's bore size should match the shaft sizes to ensure a proper fit and secure connection.
3. Misalignment Tolerance: Evaluate the expected misalignment in the system. HRC couplings are known for their ability to handle angular, parallel, and axial misalignment to a certain degree. Choose a coupling with the appropriate misalignment tolerance for your application.
4. Operating Speed: Consider the operating speed of the machinery. High-speed applications may require specially designed HRC couplings with balanced construction to prevent vibrations and maintain smooth operation.
5. Operating Temperature: Determine the range of operating temperatures in the system. Ensure that the selected HRC coupling can withstand the temperature extremes of the application without compromising its performance.
6. Environmental Conditions: Consider the environmental conditions in which the HRC coupling will operate. Factors such as moisture, dust, and corrosive elements should be taken into account when choosing the appropriate material and coating for the coupling.
7. Space Limitations: Evaluate the available space for the coupling installation. HRC couplings come in various sizes and designs, so choose one that fits within the spatial constraints of the system.
8. Maintenance Requirements: Determine the desired level of maintenance for the coupling. Some HRC couplings are maintenance-free, while others may require periodic inspection and lubrication.
9. Coupling Type: Consider the specific type of HRC coupling that best suits the application. HRC couplings are available in different designs, such as flange, taper bush, and pilot bore, each with its advantages for specific applications.
10. Budgetary Constraints: Finally, consider the budget for the coupling. While cost is an important factor, it should be balanced with the coupling's performance, durability, and suitability for the application.
By carefully evaluating these factors, you can choose the most appropriate HRC coupling for your specific system, ensuring smooth power transmission, longevity, and reliability of your equipment.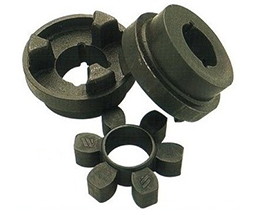 Explanation of HRC Coupling and Its Functionality
An HRC coupling, also known as a "Highly Resilient Coupling" or "Jaw Coupling," is a type of flexible shaft coupling used to connect two shafts in mechanical power transmission systems. It is designed to transmit torque while accommodating minor shaft misalignments and dampening vibrations.
How HRC Coupling Works:
The HRC coupling consists of three main components:
Two Hubs: Each hub has a set of curved jaws with teeth that mesh together when the coupling is assembled. The hubs are typically made of steel or cast iron and are connected to the respective shafts of the driving and driven equipment.

Elastomeric Spider: The elastomeric spider is the flexible element of the coupling and is placed between the two hubs. It is commonly made of a synthetic rubber material such as polyurethane. The spider's unique design allows it to deform under torque, transmitting power while accommodating angular and parallel misalignments between the shafts.
When the HRC coupling is in operation, the driving shaft rotates, and the torque is transmitted through the hubs to the elastomeric spider. As the spider deforms, the jaws of the hubs move relative to each other, accommodating any misalignment between the shafts. This flexibility helps to reduce the transmission of vibrations and shock loads from one shaft to the other, thus protecting the connected equipment.
HRC couplings are widely used in various applications, including pumps, compressors, conveyors, and other machinery, where misalignment and shock absorption are important considerations. Their simple and effective design makes them easy to install and maintain, and they are available in various sizes and torque ratings to suit different power transmission requirements.



editor by CX 2023-09-05